Can't resist a good deal? Save 10% off site wide on all items with a minimum spend of $60 from  1 – 31 July 2022 and enjoy fantastic savings on the best groceries & everyday items from Singapore's most trusted online grocer, The Care! 
The Care brings together household groceries such as fruit & vegetables, meat & seafood, rice, noodles & cooking ingredients, beverages, dairy, frozen food, snacks & sweets as well personal care, as a leading online grocery store that's here to ease the burdens of modern day Singaporean families and provide them with convenience through our wide range of hassle-free grocery and laundry services that cater to your everyday needs.
At The Care, you can find all your favourite household brands such as Heinz baked beans, Ben & Jerry's ice cream, Farmland chicken nuggets, Song He rice, Nissin cup noodles and so much more including groceries from fresh produce to pantry staples, household products, personal care, and even laundry services. We bring you a wide selection of  quality items at value for money prices. 
The Care takes pride in the quality of our premium range of organic fresh produce and you can be assured your fruits and vegetables will reach you exactly how they should – fresh. Each order is harvested and packed on the same day as delivery for the utmost freshness and quality.
Why not shop smart and try a more convenient way of buying your groceries and home essentials online? Shop up a storm online with everything you need at your fingertips at any time of the day! Simply order, then sit back and relax while we bring your groceries to your doorstep with our islandwide delivery that comes free with any order above $60. What's more, order before 10am for same day delivery! 
What're you waiting for? Everything you need is just a click away with The Care! Shop our full selection of groceries now!
Hate laundry? Load up on fantastic savings and leave your laundry woes to us! Our sitewide 10% off discount includes laundry services, no code needed! From ironing to washing, clothing to tea towels, table linen and bedding, we'll handle your laundry load for you including collection and delivery right to your doorstep! Plus, enjoy same day collection at your doorstep on all orders made before 10am and free islandwide delivery with a minimum spend of just $60! Browse our full range of laundry services now!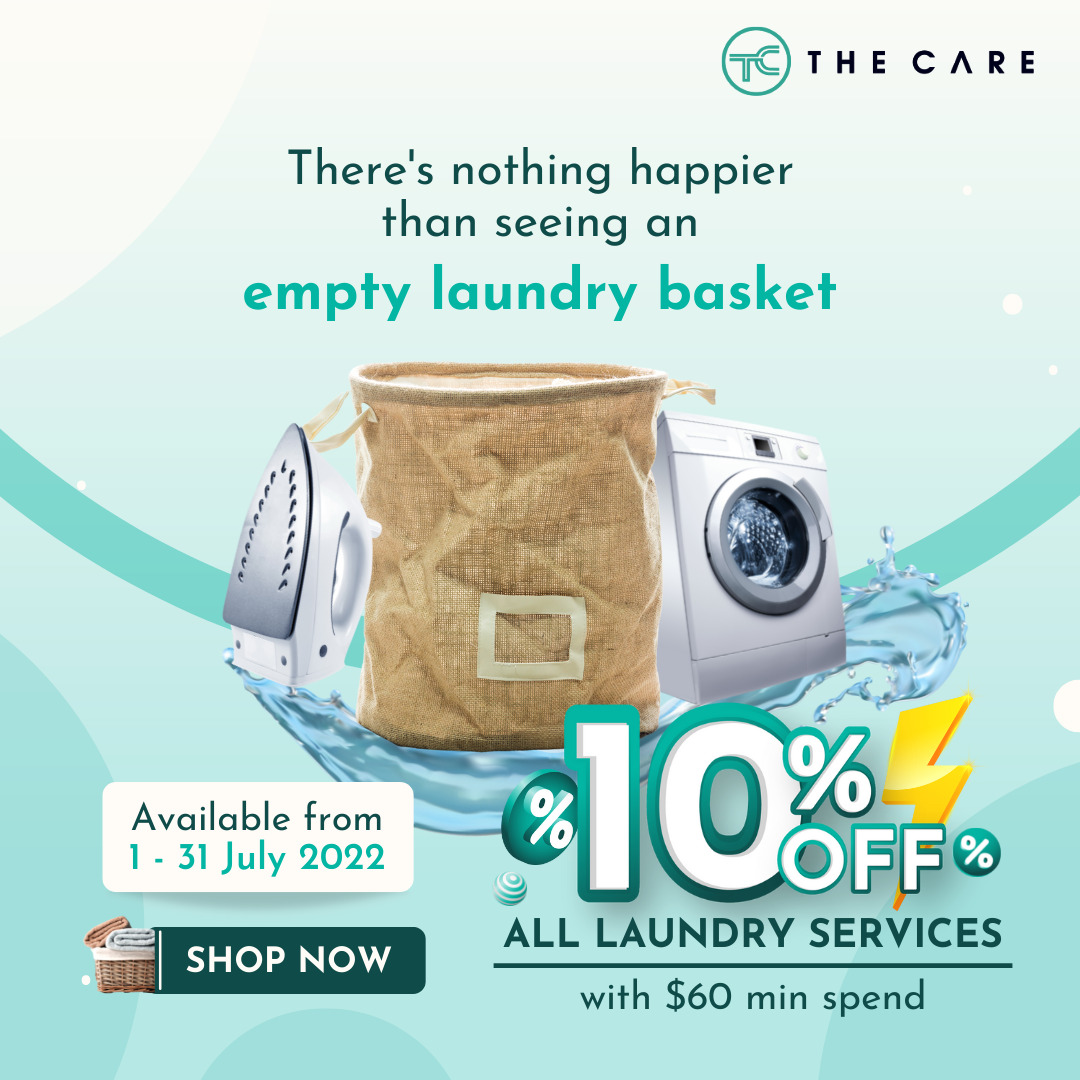 The Care is an online based, home services company providing hassle-free, high quality groceries as well as dry cleaning and laundry services for clothing, bedding, and so much more. We strive to ease the burdens of modern day families and provide them with convenience through our grocery and laundry services so that they can focus on what truly matters — building real relationships.
Terms & Conditions:
Applicable to all TC website purchases made from 1 – 31 July 2022.
10% discount applicable with a minimum spend of $60 in a single transaction only.
Applies to all grocery and laundry items except first time purchases of laundry service subscriptions.