Even amidst rising costs, quality affordable essentials from The Care are here to stay! For all new customers, save $10 off site wide on all items with a minimum spend of just $40 to enjoy fantastic savings on the best groceries & everyday items from Singapore's most trusted online grocer, The Care!
The Care brings together household groceries such as fruit & vegetables, rice, noodles & cooking ingredients, beverages, dairy, frozen food, meat & seafood, snacks & sweets as well personal care, as a leading online grocery store that's here to ease the burdens of modern day Singaporean families and provide them with convenience through our wide range of hassle-free grocery and laundry services that cater to your everyday needs.
Why not shop smart and try a more convenient way of buying your groceries and home essentials online? Shop up a storm online with everything you need at your fingertips at any time of the day! Simply order, then sit back and relax while we bring your groceries to your doorstep with our islandwide delivery that comes free with any order above $60. What's more, order before 10am for same day delivery!
What're you waiting for? Everything you need is just a click away with The Care! Shop our full selection of groceries now!
Enter Code: 50offsubscriptions At Checkout To Enjoy 50% Off Your First Month of Laundry Subscriptions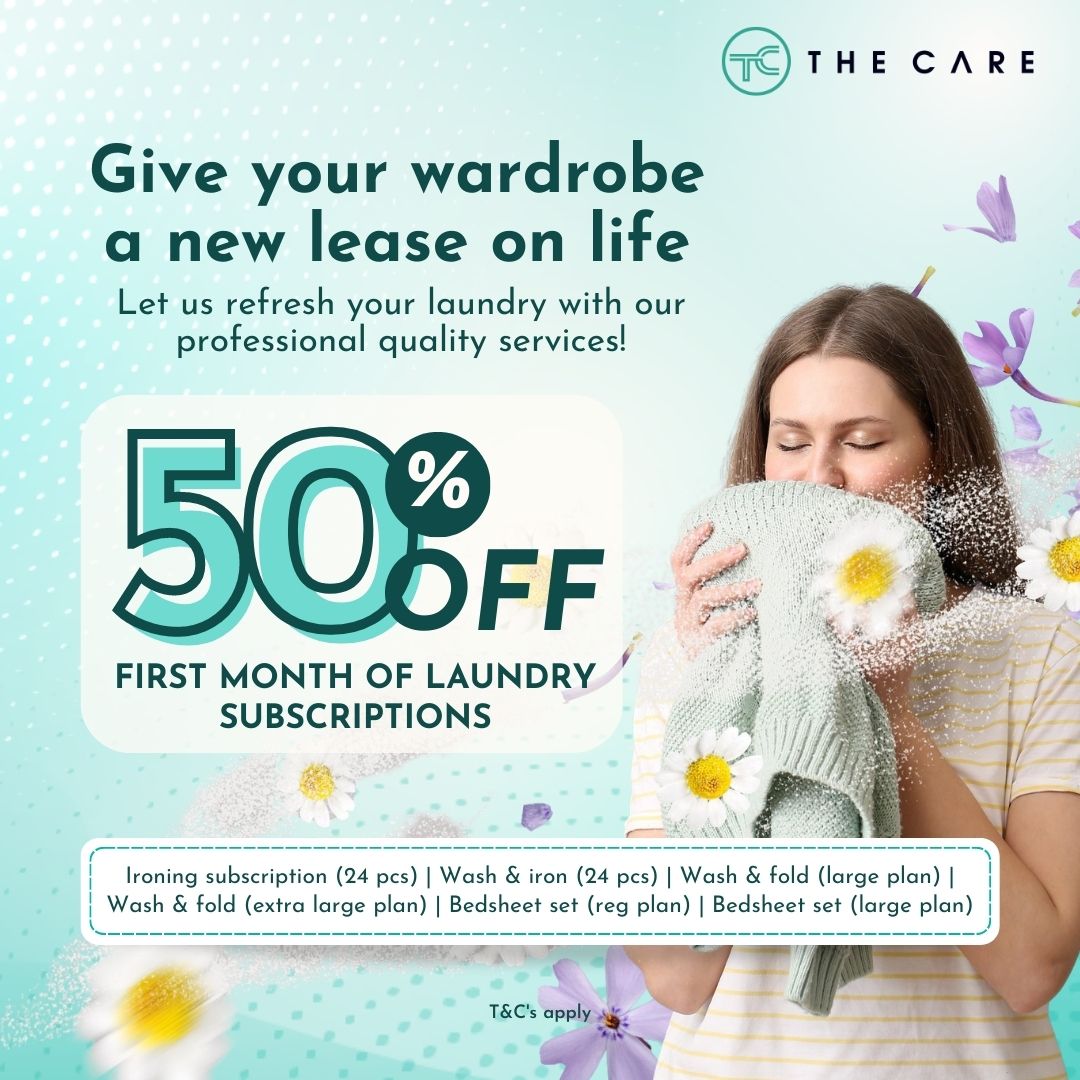 Looking for a smarter, easier, and cleaner way to do laundry? The Care is here for all your laundry needs, now with 50% off your first purchase of any laundry subscription plan, just enter 50offsubscriptions at checkout to redeem! Our subscription plans provide premium, professional dry cleaning, wash & fold and ironing services to your home including free islandwide pick up & delivery to anywhere in Singapore so that your laundry can be done without stepping out of the comfort of your home. Browse our full range of laundry services now!
The Care is an online based, home services company providing hassle-free, high quality groceries as well as dry cleaning and laundry services for clothing, bedding, and so much more. We strive to ease the burdens of modern day families and provide them with convenience through our grocery and laundry services so that they can focus on what truly matters — building real relationships.
Terms & Conditions:
$10 off applicable to all first time purchases with a minimum spend of $40 in a single transaction only

with code

10OFFNEW

at checkout

.
$10 off applies to all grocery and laundry items except first time purchases of laundry packages and subscription plans.
Laundry Packages are valid for 3 months from date of purchase. Thereafter, the package will be deactivated and any unutilised services rendered null and void.
Laundry Packages are strictly non-refundable regardless of whether services have been fully or partially utilised.
50% off applicable to all first time purchases of laundry subscriptions made on TC website from 1 Sep 2022 onwards until further notice.
Discount does not apply to any existing subscriptions purchased before 1 Sep 2022, first time purchases of laundry subscription plans.