Tired of going through the tedious task of ironing a never ending pile of laundry after a long day at work? The Care's professional ironing services will have your clothes looking well-pressed and crisp for everyday wear with $10 off with $40 min spend on all groceries & laundry services for new customers only, just apply the code 10OFFNEW to your cart!
Benefits of Hiring Ironing Services in Singapore
Reduces morning stress when you're looking for something presentable to wear every morning.
Wearing clothes that have been ironed very neatly without any creases.
Clothes will be ironed differently based on material, protecting the cloth, and maintaining the colour.
Professionally ironed and thus eliminating odour, germs, and bacteria from the clothes.
At The Care, we provide one of the cheapest domestic ironing services in Singapore. Depending on your needs, we provide laundry ironing services on a one-off or monthly subscription basis, delivered at your convenience to suit your schedule.
Enter Code: 50offsubscriptions At Checkout To Enjoy 50% Off Your First Month of Laundry Subscriptions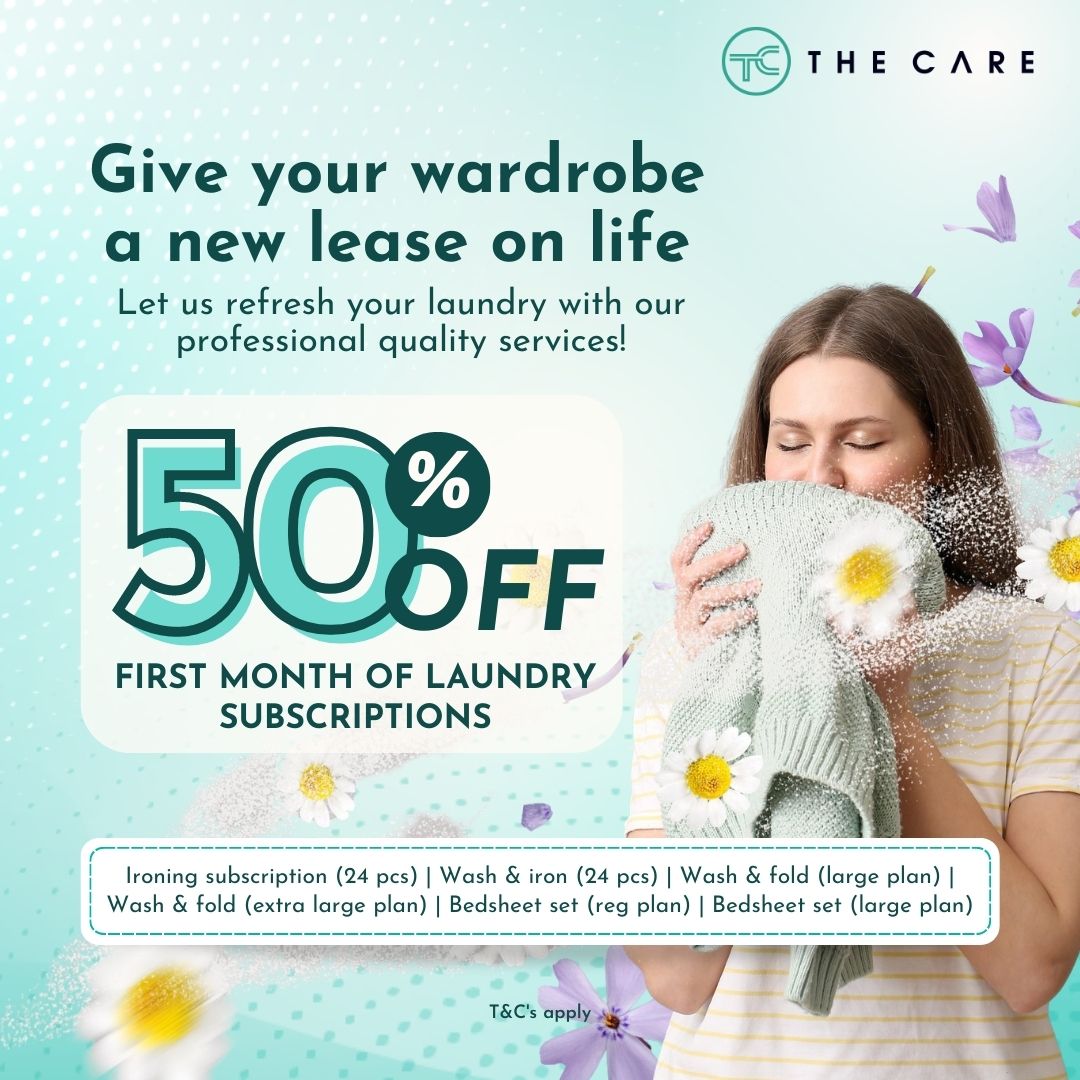 Looking for a smarter, easier, and cleaner way to do laundry? The Care is here for all your laundry needs, now with 50% off your first purchase of any laundry subscription plan, just enter 50offsubscriptions at checkout to redeem! Our subscription plans provide premium, professional dry cleaning, wash & fold and ironing services to your home including free islandwide pick up & delivery to anywhere in Singapore so that your laundry can be done without stepping out of the comfort of your home. Browse our full range of laundry services now!
Every household knows the hassle of struggling with bedding when it comes to laundry, from bedsheets, fitted sheets, to pillowcases. Clock in some extra snooze time and let us handle the dry cleaning while you drift off to sleep on a fresh, clean bed. Give our new Bedsheet Set Subscription Plans a try!
Everyone loves the smell of clean laundry but the hassle of washing, drying and folding your clothes and bedding every week can get pretty hectic, especially with kids. The Care is here to help lighten your laundry load with our premium laundry services at affordable prices, complete with pick up and delivery to your doorstep so you can save on travel time. Got an extra long laundry list? Our subscription plans will help give your laundry a regular refresh at reasonable prices!

Just schedule a pickup date and time at your convenience at checkout. We'll collect and deliver your pristine laundry back to you, anytime and anywhere, just let us know where you are, office or home. Plus, enjoy same day collection at your doorstep on all orders made before 10am and free islandwide delivery with a minimum spend of just $60!

Each of your items are professionally handled with utmost skill by our team of experienced laundry experts to ensure that your items will receive the best care and attention. Never worry again and leave your laundry worries at the door, literally, and we'll come solve it for you in an instant with wash & fold, dry cleaning and ironing at a schedule that fits your lifestyle. The solution to all your laundry and dry cleaning woes is just a click away, book a pick up with us today!
New Customers Exclusive Offer: $10 off with $40 min spend with code 10OFFNEW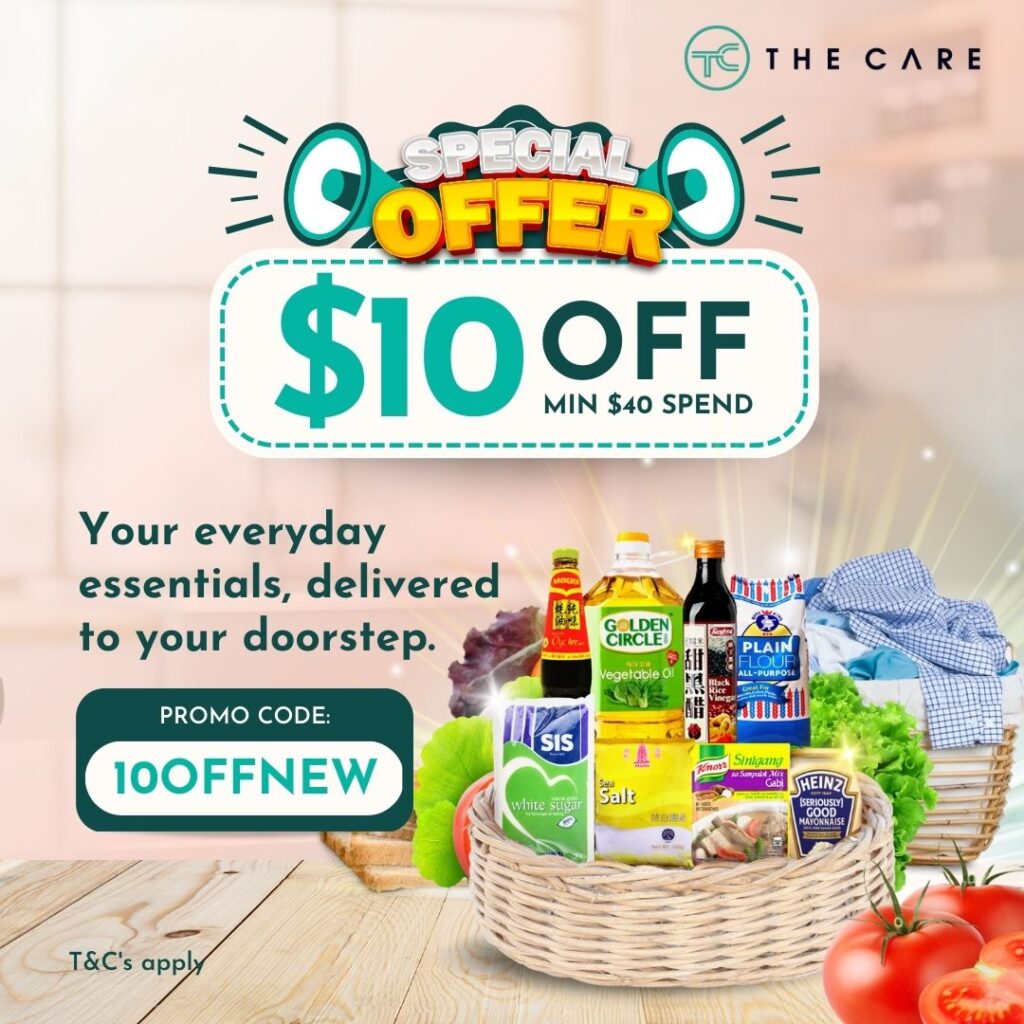 Even amidst rising costs, quality affordable essentials from The Care are here to stay! For all new customers, save $10 off site wide on all items with a minimum spend of just $40 to enjoy fantastic savings on the best groceries & everyday items from Singapore's most trusted online grocer, The Care! The Care brings together household groceries such as fruit & vegetables, meat & seafood, cooking ingredients, snacks and even laundry services, as a leading online grocery store. Shop our full selection of groceries now!
The Care is a professional online dry cleaner providing fuss-free laundry and dry cleaning – from formal wear to casual clothing clothing and home linen like bedsheets, curtains, rugs, sofa covers and more at affordable prices. Load up on fantastic savings and leave your laundry woes to us! We'll handle your laundry load for you including collection and delivery right to your doorstep! Browse our full range of laundry services now!
The Care is an online based, home services company providing hassle-free, high quality groceries as well as dry cleaning and laundry services for clothing, bedding, and so much more. We strive to ease the burdens of modern day families and provide them with convenience through our grocery and laundry services so that they can focus on what truly matters — building real relationships.
Terms & Conditions:
$10 off applicable to all first time purchases with a minimum spend of $40 in a single transaction only

with code

10OFFNEW

at checkout

.
$10 off applies to all grocery and laundry items except first time purchases of laundry packages and subscription plans.
Laundry Packages are valid for 3 months from date of purchase. Thereafter, the package will be deactivated and any unutilised services rendered null and void.
Laundry Packages are strictly non-refundable regardless of whether services have been fully or partially utilised.
50% off applicable to all first time purchases of laundry subscriptions made on TC website with code 50offsubscriptions applied at checkout from 1 Sep 2022 onwards until further notice.
Discount does not apply to any existing subscriptions purchased before 1 Sep 2022, first time purchases of laundry subscription plans.