Dirty laundry tripping you up? Send your laundry woes to us! Enjoy 50% off your first purchase of any Wash & Fold Bag from 1 – 31 Aug 2022, no promo code needed! We'll drop by your house with an empty laundry bag, just fill it up and we'll deliver it back to you, all fresh and clean!
Everyone loves the smell of clean laundry but the hassle of washing, drying and folding your clothes and bedding every week can get pretty hectic, especially with kids. The Care is here to help lighten your laundry load with our premium laundry services at affordable prices, complete with pick up and delivery to your doorstep so you can save on travel time. Got an extra long laundry list? Our subscription plans will help give your laundry a regular refresh at reasonable prices!

Just schedule a pickup date and time at your convenience at checkout. We'll collect and deliver your pristine laundry back to you, anytime and anywhere, just let us know where you are, office or home. Plus, enjoy same day collection at your doorstep on all orders made before 10am and free islandwide delivery with a minimum spend of just $60!

Each of your items are professionally handled with utmost skill by our team of experienced laundry experts to ensure that your items will receive the best care and attention. Never worry again and leave your laundry worries at the door, literally, and we'll come solve it for you in an instant with wash & fold, dry cleaning and ironing at a schedule that fits your lifestyle. The solution to all your laundry and dry cleaning woes is just a click away, book a pick up with us today!
New Customers Only: $10 off with $40 min spend with code 10AUGNEW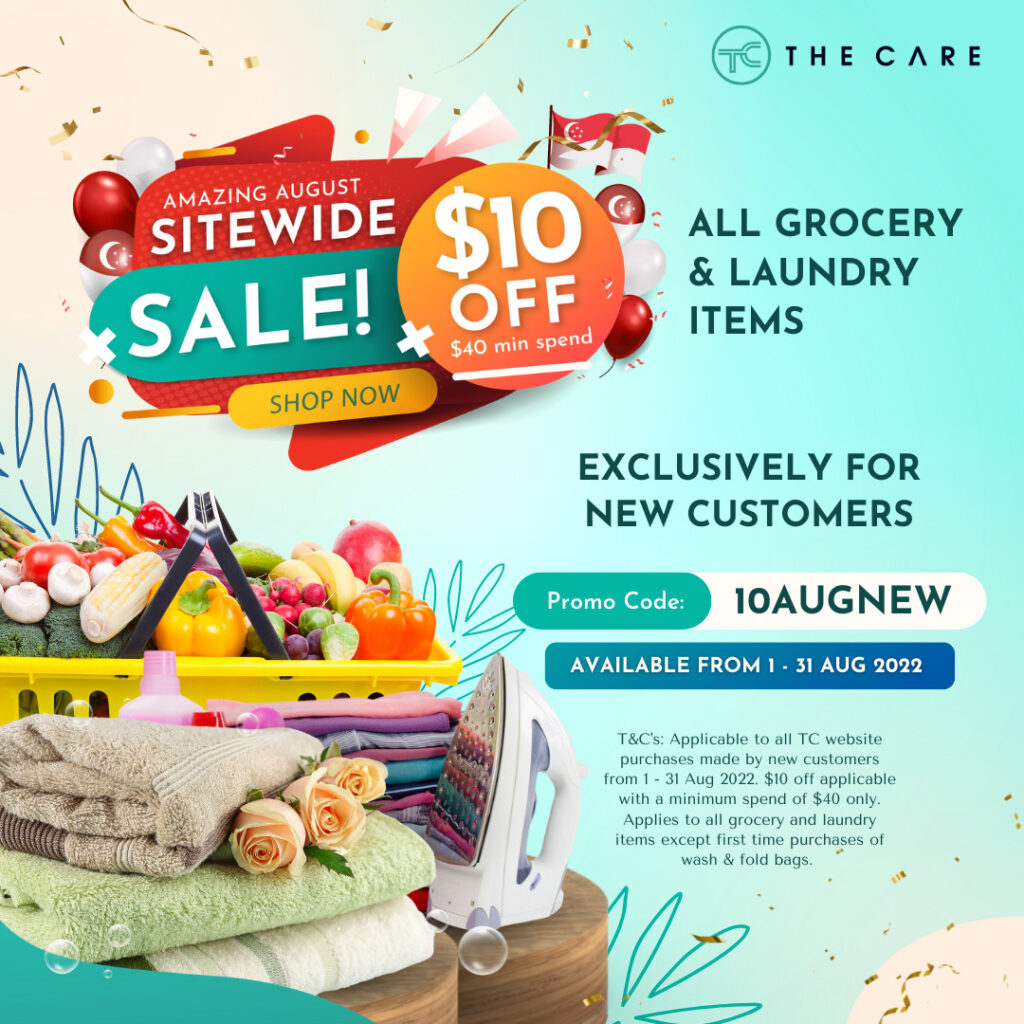 Don't have the time for chores and supermarket queues after a long day at work? Let us handle your laundry and grocery list and enjoy $10 off with $60 min spend on all groceries & laundry services for new customers only, just apply the code 10AUGNEW to your cart!  Browse a wide selection of  quality items at value for money prices including Prima laksa paste, Lee Kum Kee oyster sauce and so much more from fresh produce to pantry staples, household products, personal care, and even laundry services. Shop our full selection of groceries now!
TC Members Exclusive Offer: $5 off with $50 min spend with code 10AUGMEM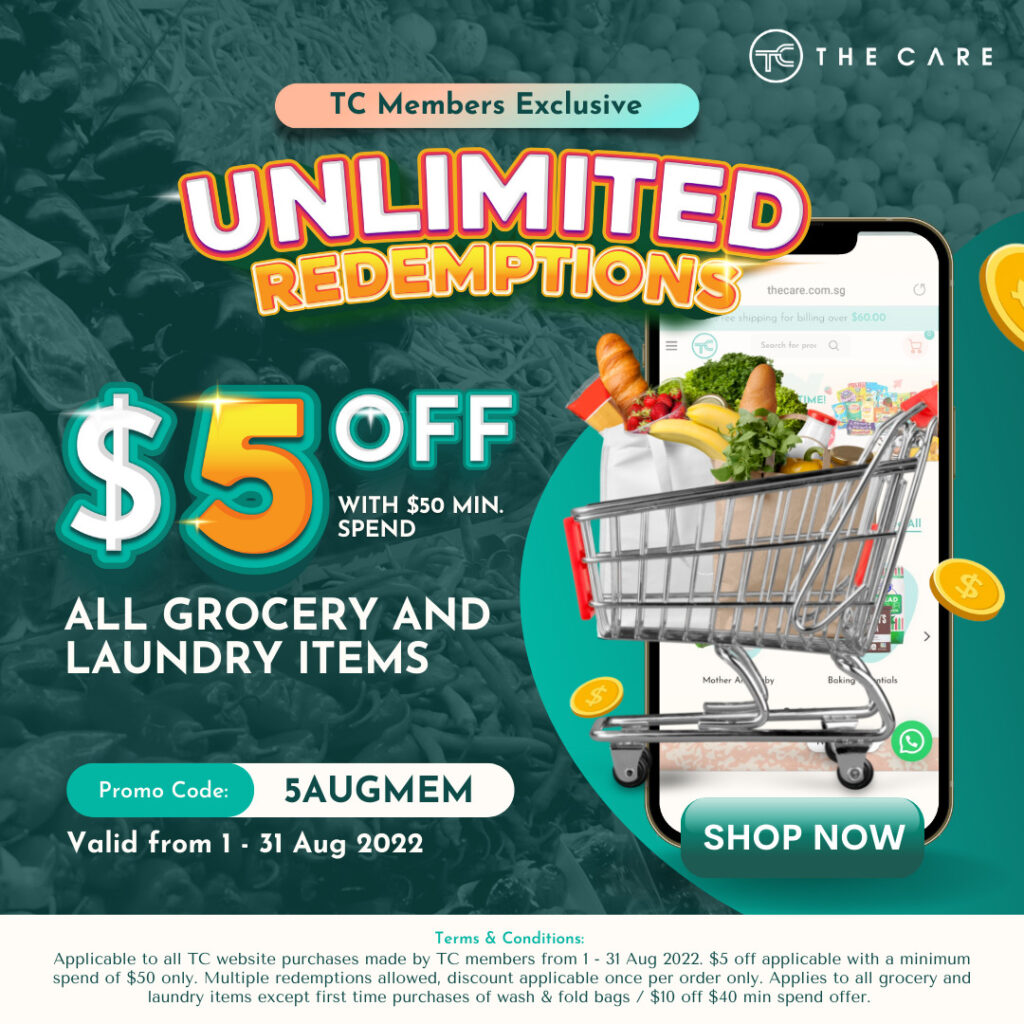 Craving some local flavours? Treat your family to a sumptuous home-cooked meal and enjoy $5 off with $50 min spend on all groceries & laundry services with unlimited redemptions for TC members only, just apply the code 5AUGMEM to your cart! Shop up a storm online with our full selection of groceries now!
The Care is a professional online dry cleaner providing fuss-free laundry and dry cleaning – from formal wear to casual clothing clothing and home linen like bedsheets, curtains, rugs, sofa covers and more at affordable prices. Load up on fantastic savings and leave your laundry woes to us! We'll handle your laundry load for you including collection and delivery right to your doorstep! Browse our full range of laundry services now!
The Care is an online based, home services company providing hassle-free, high quality groceries as well as dry cleaning and laundry services for clothing, bedding, and so much more. We strive to ease the burdens of modern day families and provide them with convenience through our grocery and laundry services so that they can focus on what truly matters — building real relationships.
Terms & Conditions:
Applicable to all TC website purchases made from 1 – 31 Aug 2022.
50% off applies to first time purchases of either regular or large wash & fold bags only, not applicable to wash & fold subscription plans.
$10 off applicable with $60 min spend in a single transaction, limited to one redemption per person for new customers only with code 10AUGNEW applied at checkout.
$5 off applicable with $50 min spend, redeemable once per transaction, unlimited redemptions on all purchases made in Aug 2022 for existing TC members only with code 5AUGMEM applied at checkout.
Applies to all grocery and laundry items except first time purchases of wash & fold bags only.