Laundry needs aren't one-size-fits-all, and neither are our NEW Laundry Packages. Choose a package that best fits your lifestyle without the limitations of monthly fees. We know how hectic working life can be, so why not do your laundry the smarter, easier way? Whether it's extra outfits for a last minute meeting or regular maintenance of your favourite pieces, we handle the laundry so you can get down to business.
A first in Singapore, each Laundry Package lets you enjoy the flexibility of using our professional laundry services at an exclusive 15% off, including 4 free pickup and delivery trips for each package. From work wear essentials such as blazers, shirts and dresses dry cleaned for you, to ironing and washing services, use our packages however you like, personalised to your ever-changing laundry needs.
What's included in each Laundry Package:
A fixed number of professional laundry services at an exclusive 15% off, valid for 3 months from date of purchase
4 free pickup and delivery trips to your doorstep
Dedicated customer service
Personalised password protected package link to check on the number of available services in your account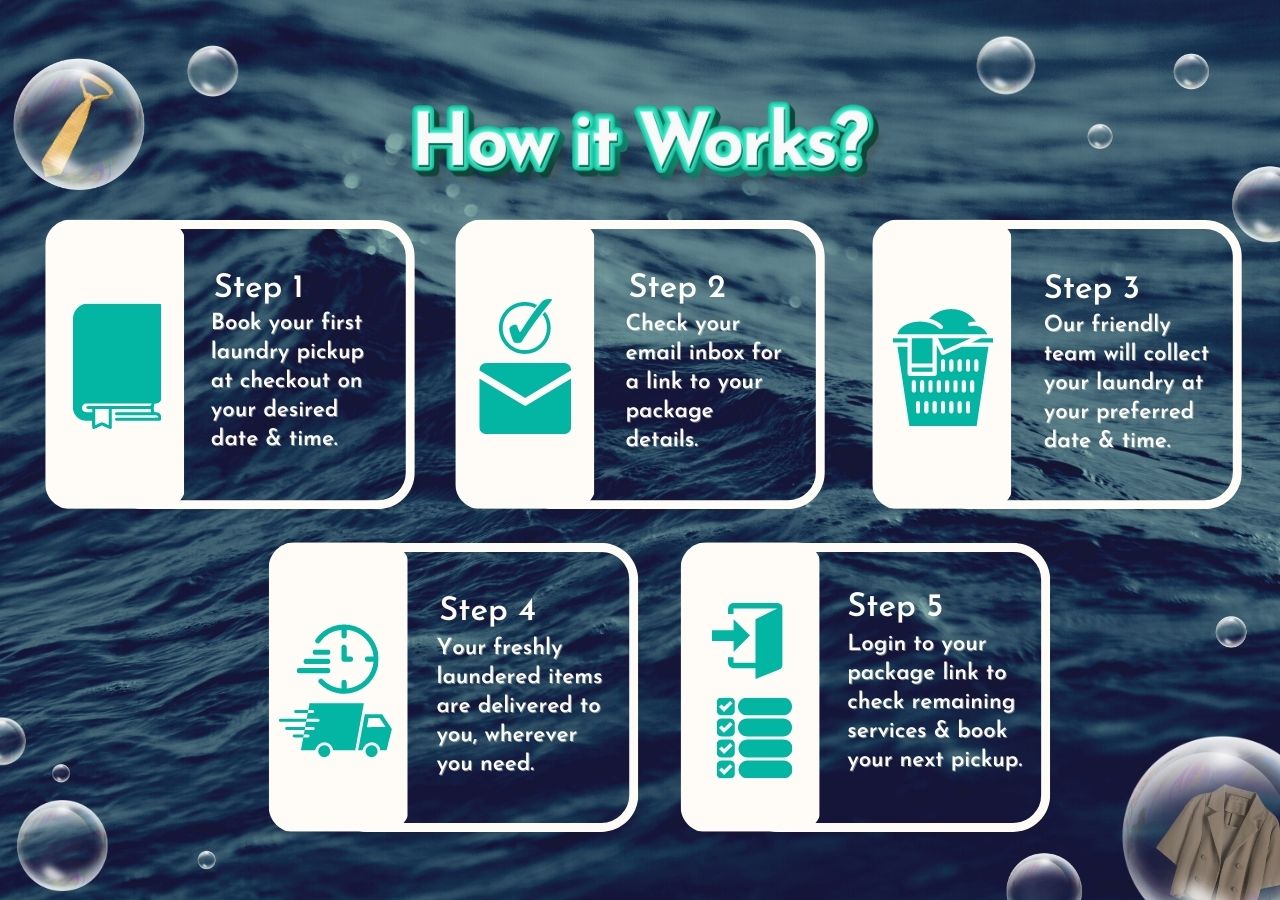 How Laundry Packages Work
You get to choose how many services you redeem and when you need it, our services are here for all your laundry needs.
Conference this weekend? Book a pickup for 2 blazers dry cleaned. Got a few extra meetings next week? Book another pickup for 5 blazers dry cleaned. Going on leave? No worries, let us know when you want to use the remaining services in your package when you get back.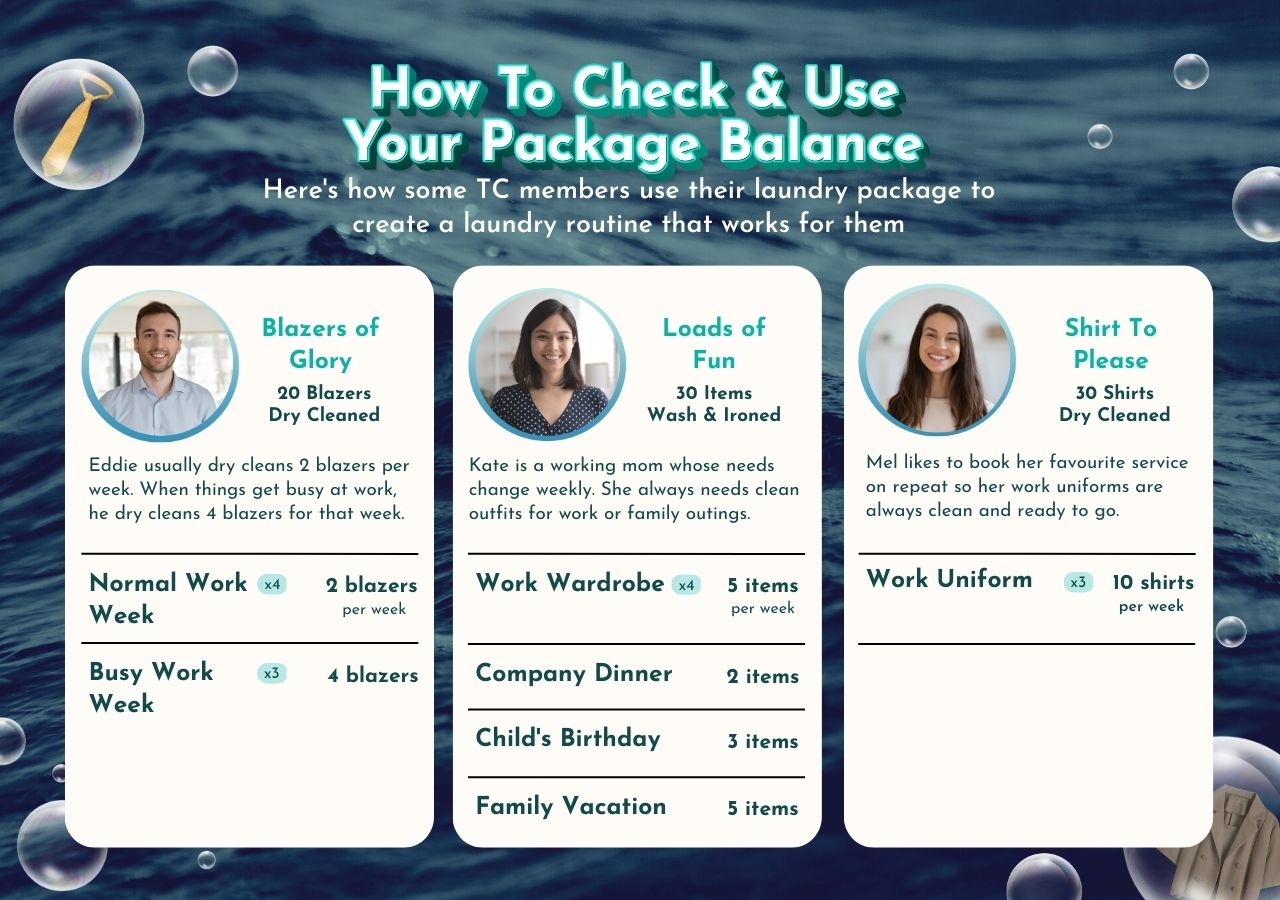 Ready to start? Pick out a Laundry Package and select your first laundry pickup date and time at checkout. We'll come pick it up at your convenience. Check your email inbox for an email with your personalised link and a password to access your package details including the number of services you're entitled to under "In Stock".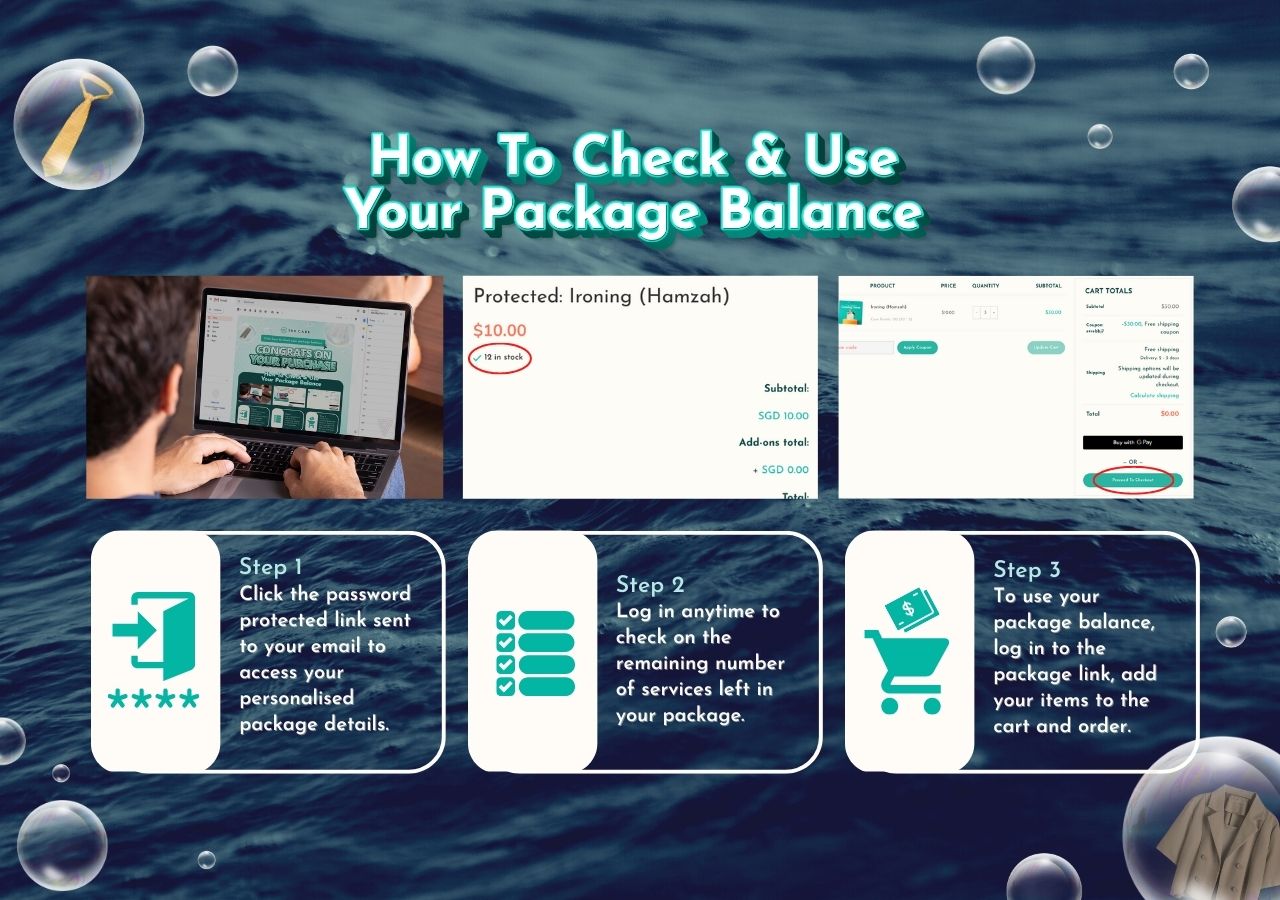 How To Use Your Laundry Package
Whenever you want to book your remaining package balance, log in via your package link, add your desired number of services to the cart, select a pickup date and timing at your convenience and check out to complete your order!

Each of your items are professionally handled with utmost skill by our team of experienced laundry experts to ensure that your items will receive the best care and attention. Never worry again and leave your laundry worries at the door, literally, and we'll come solve it for you in an instant with wash & fold, dry cleaning and ironing at a schedule that fits your lifestyle. The solution to all your laundry and dry cleaning woes is just a click away, book a pick up with us today!
The key to maintaining the condition and prolonging the life span of your favourite power suit or corporate dress is to clean them well and store them right. High quality, statement pieces are often expensive. Having them washed, ironed or dry cleaned by a professional laundry company will help to protect your investment and keep your favourite corporate outfits in optimal condition.
At The Care, your office suits, blazers, shirts and dresses are handled by our experienced laundry experts who will select the most appropriate method of cleaning depending on the make, material and design of your office wear laundry items for a professional finish that suits your professional image.
We provide door-to-door pick up and delivery service, so you don't have to lug your bulky laundry items to the dry cleaner and make another trip to pick them up after dry cleaning.
At The Care, we provide one of the cheapest dry cleaning laundry services in Singapore. Depending on your needs, we also provide laundry services on a one-off or monthly subscription basis, delivered at your convenience to suit your schedule.
Enter code: 50offsubscriptions for 50% Off Your First Month of Laundry Subscriptions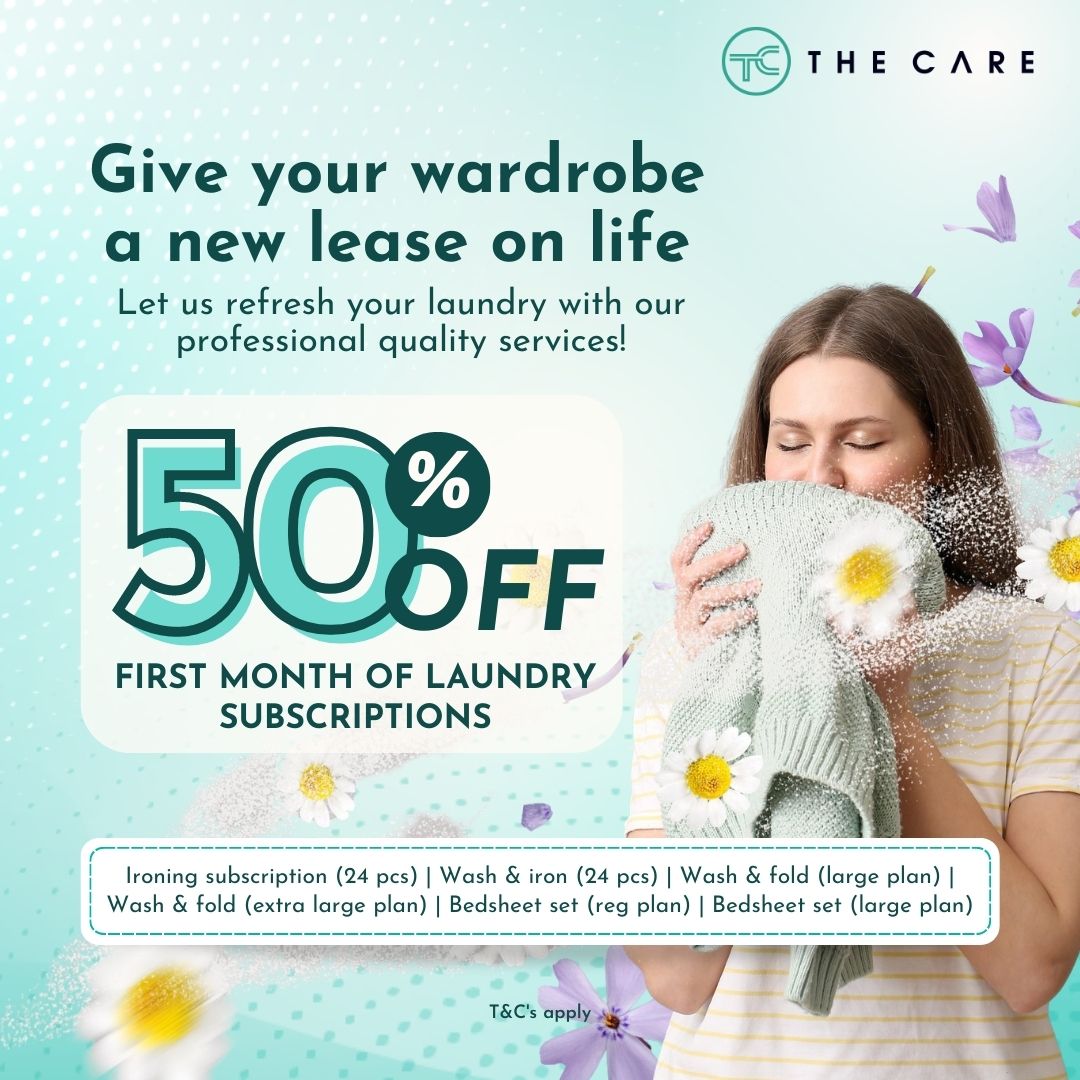 Looking for a smarter, easier, and cleaner way to do laundry? The Care is here for all your laundry needs, now with 50% off your first purchase of any laundry subscription plan, just enter 50offsubscriptions at checkout to redeem! Our subscription plans provide premium, professional dry cleaning, wash & fold and ironing services to your home including free islandwide pick up & delivery to anywhere in Singapore so that your laundry can be done without stepping out of the comfort of your home. Browse our full range of laundry services now!
The Care is a professional online dry cleaner providing fuss-free laundry and dry cleaning – from formal wear to casual clothing clothing and home linen like bedsheets, curtains, rugs, sofa covers and more at affordable prices. Load up on fantastic savings and leave your laundry woes to us! We'll handle your laundry load for you including collection and delivery right to your doorstep! Browse our full range of laundry services now!
The Care is an online based, home services company providing hassle-free, high quality groceries as well as dry cleaning and laundry services for clothing, bedding, and so much more. We strive to ease the burdens of modern day families and provide them with convenience through our grocery and laundry services so that they can focus on what truly matters — building real relationships.
Terms & Conditions:
Laundry Package prices not applicable in conjunction with any other promotions or discounts.
Laundry Packages are valid for 3 months from date of purchase. Thereafter, the package will be deactivated and any unutilised services rendered null and void.
Laundry Packages are strictly non-refundable regardless of whether services have been fully or partially utilised.
50% off applicable to all first time purchases of laundry subscriptions with code 50offsubscriptions entered at checkout made on TC website from 1 Sep 2022 onwards until further notice.
Discount does not apply to any existing subscriptions purchased before 1 Sep 2022, first time purchases of laundry subscription plans.